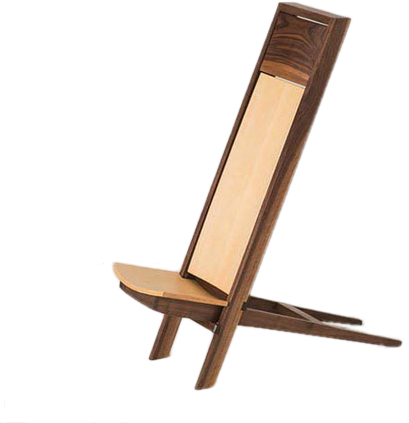 Monochord chair
INTERNAL STRENGTH
Combined with the body monochord "Heaven and Earth", the monochord chair makes it possible to bring sound vibration deep into the body.
The body monochord "Heaven and Earth" is inserted as a backrest into the back part of the chair. Seating surface and backrest can be disassembled with one move. For transport, the seat part can be basically fitted into the back of the chair.
The instrument can be conveniently transported in a tailor-made soft bag (with hand, shoulder and back straps). Folded in a compact transport format, the chair has a weight of less than 4 kg and can be carried with in one hand.
Design
Back part app. 125cm high, app. 35cm wide; seating surface app. 25cm in height. Frame made from ash-, beech-, cherry-, walnut wood. Seating surface and bonnet made from the finest spruce.